Pop's Model A Town Sedan
---
Pops and I restored this car in the early 60's. There are not too many old photos left of it, as he sold it in 1967 to buy a Model A Roadster.
---
---
In 1960, Pops decided he needed a reliable car that was simple and easy to maintain and repair, and remembering his youth, decided on a Model A Ford. He located one in eastern Connecticut, and after laying out $80, was the proud owner of a 1930 Tudor sedan. After getting it home, and looking it over, he decided it needed to be "refurbished", and we started taking it apart. He was right. It was a simple car, and came apart without much trouble, except a few rusty bolts.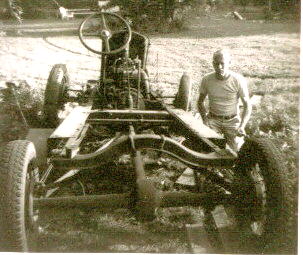 We cleaned the frame and chassis parts and painted them chassis black. Most of the components were in good condition, so that was enough. We replaced the king pins and spring shackles, and the chassis was pretty much done. We got tips on what to do and how to do it from the Connecticut Model A Restorer's Club, which he joined.

Just about this time, a man in the Model A Club who's name was Judd, gave Pops most of a 1930 town sedan, which was also apart. We borrowed a truck from the neighbor's farm and brought it home. On close inspection, it turned out to be in better condition than the Tudor, and even had usable upholdstry. So the Tudor turned into a four door town sedan. The Tudor chassis was already done, so we used the Tudor chassis and started reassembling the town sedan on that.

Here's a picture that was published in 1963 in the newspaper where Pops worked for many years.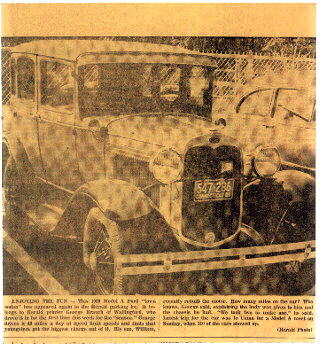 The caption reads "ENJOYING THE SUN - This 1930 Model A "town sedan" has appeared again in the Herald parking lot. It belongs to Herald printer George Brauch of Wallingford, who drove it in for the first time this week for the "season". George drives it 40 miles a day at speed limit speeds and finds that youngsters get the biggest charge out of it. His son, William, recently rebuilt the motor. How many miles on the car? Who knows, George said, explaining the body was given to him and the chassis he had. "We took two to make one," he said. Latest trip for the car was to Union for a Model A meet on sunday, when 110 of the cars showed up."


As the caption mentioned, I had taken the engine to school, and rebuilt it in the Vocational Agriculture shop.

Pops decided on a color scheme that was original, but always made me wonder. The colors are Chicle Drab and Cobra Drab, with a Straw stripe. It looked like two tones of army drab to me. Well, over fourty five later, it still has the same paint that I applied as a teenager. The finished product was really impressive to us (remember this was 1962) and since there was not the information or parts available to us that are available today, it was really a good job.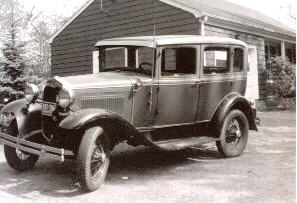 We started taking it to antique car shows, and of course to all the Model A Club meetings and events. The brakes were not great, and so Ma would always insist that I drive, since I was more careful and drove slower. If we needed to stop in a hurry, I would reach over and pull on the parking brake handle while stomping down on the brake pedal with all my weight. Ma was never very enthusiastic about old cars, but would usually come to the shows, and club events.

<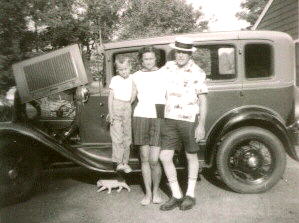 My little brother Mike started to take an interest in Model As about this time, and in this picture you can see him standing on the running board next to Ma. His cat is under the fender. (he's still mad at the meter reader for running over the cat with his truck) Mike would spot a Model A in someone's yard, or behind a barn, or in a field, and say "Model A" and Pops would slam on the brakes of whatever he was driving, with no regard for what was behind him, and Ma would have a comment on his driving method, while the cars behind him recovered from their surprise. Pops was always ready to talk about Model A Fords, and easily made many friends doing so.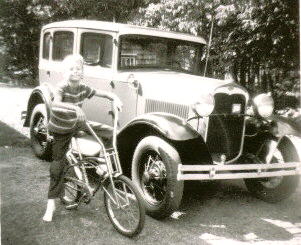 Mike was always ready to go for a ride in the Town Sedan, and knew quite a bit about the car, having seen it built from pieces. He must have been as upset as I was when Pops sold the car in 1967 to buy a Roadster.

I remember driving the Town Sedan to high school, and when I graduated, and got a job in the Ford dealer, I used it to get to work until I saved enough money to buy my 1940 Ford Tudor deluxe.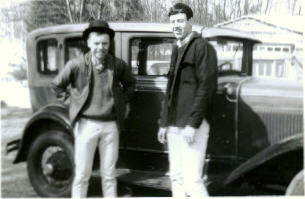 My cousin Ed lived next door, and when we weren't riding in his 1950 Chevy pickup, we would ride in the Town Sedan. It was a very reliable car, and I don't ever remember having any serious trouble with it. Once on a trip to a club show, the parking brake clevis pin fell out, and when I pulled on the handle to set the brake, got a surprise. Someone had a spare pin, so I crawled under and replaced the pin, and everything was fine again.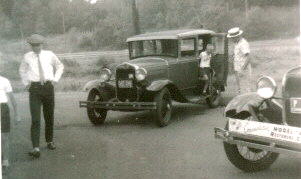 We took the Town Sedan to every car show that we heard about, and many of them were the first annual in a long running series, most of them still being held annually, 40 years later. Pops was easily recognized, with his straw hat which was decorated with buttons from shows and perched on his head at a slight angle, and his big smile, which got even bigger around old cars. In this shot, Jon and I are walking away from the car, having just parked it, and Pops is helping Mike get out of the back seat.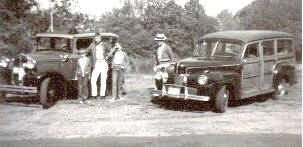 We took the Town Sedan to many parades, and Pops would also take his 1941 Ford Woody Wagon. In this picture, Mike, Jon, and I are getting out of the Town Sedan, and Pops is standing near his Woody. He bought that woody from the original owner, after she failed to negotiate a curve, due to failing vision from old age. We replace a fender and the grill, and painted it, and it was good as new.


The Town Sedan gave us many good memories, and I was sad to hear that Pops had sold it while I was in the Air Force, to finance his Model A Roadster. Mike was also upset that the Town Sedan was gone. A few years later, we tried to buy it back from the man Pop had sold it to, but he would not sell. We tried to get him to change his mind a few times, and then gave up. In 1994, Mike's brother in law saw an ad for a model A Ford in a local newspaper where he lives in Connecticut, and called mike. After hearing the description of the car, Mike was convinced it could be Pop's Town Sedan. Mike traveled down to Connecticut, and sure enough, it WAS Pop's Town Sedan! The man Pop had sold it to had died, and his heirs were selling it. They struck a deal, and the Town Sedan was once again in the family. Mike brought the car to his place in Vermont, and cleaned it up and got it running. He called me on the phone, and told me the great news, and you can imagine my excitement. He invited me to come up and see the car, so in august, I drove my 48 Ford to my other brother Jon's house, and together we drove to Mike's to see Pop's Town sedan. It was a strange and wonderful feeling to see that car after so many years, and it brought back many memories.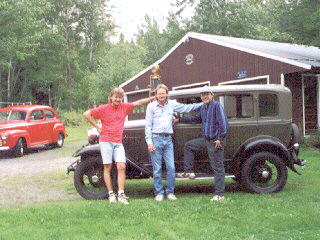 He started it up, and the three of us went for a ride in Pop's Town Sedan for the first time in almost thirty years. We stopped downtown, and I got behind the wheel for the first time since 1965, when I went off to serve in the USAF. It felt remarkably the same, and for a moment I forgot we were all about thirty years older, and Pop was gone.


When Mike got the Town Sedan home, he cleaned it up, replaced the tires, and got it running again. The car had sat in a garage for 30 years with almost no use, so it needed some attention.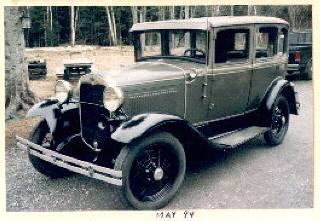 When he got it running and cleaned up, he posed proudly for a picture. The car looked very much the same as thirty years earlier, but Mike was a lot different. Mike has done a lot of work on the car in the past few years, including some engine work, a brake job, and the huge job of replacing all the wood in the roof area, and installing a new roof.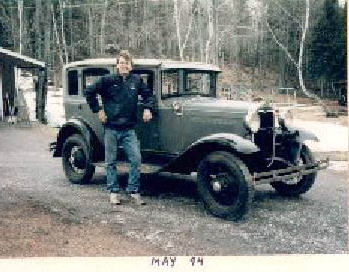 Mike was proud to have the car, and in 1999 he and his three girls braved the weather, and came south to my house in the height of the hurricane. They stayed over night, and the next morning we went by ferry to Long Island, NY for the annual New England Model A Meet.


In 2007, Mike decided to sell the car, so I bought it. In 2010 Mike decided to buy it back from me, and so once again it is in Vermont. This is how it looks today.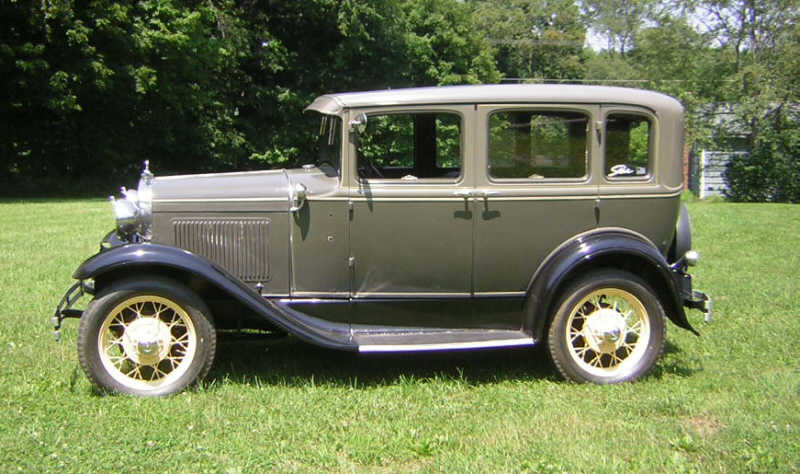 ---
Webmaster: Bill Brauch